This event is a partnership between City of Fountain Valley, The Fountain Valley Community Foundation, and D & P Classic Chevy
Join us for the 17th annual Fountain Valley car show in the
Fountain Valley Sports Park
Car Registration via Mail/Check
THIS PAGE IS FOR REGISTRATION BY CHECK ENTRIES ONLY
Please read the instructions below carefully before registering your vehicle.
All submissions will include one classic car entry for the 2023 Fountain Valley Car Show and
1 Challenge Coin Available for pickup Day of Show. 1 Vehicle Registration is $45
Thank you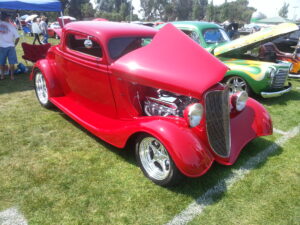 Vehicle Registration Instructions
This page is for classic car owners planning on attending the 2023 Fountain Valley Car Show. 
This page is intended only for owners planning on registering online and sending in a check for payment.

  This page is not for registering your vehicle online and paying
online.  If you are looking to register you vehicle online and pay online, please click here to go to the online payment page. 
Please fill out your vehicle registration information below and press submit.  Once the submission has been received, you will be
assigned a registration number.  We will email you a confirmation within 24 hours and instructions on where to send payment. 
If you are interested in purchasing a t-shirt, tank top, or other apparel, the information for ordering will be provided in the email or you can visit our online store to pre-order these items.
Please do not send payment until you have received an email confirmation.  Apparel and challenge coins will be available at the day of show for pickup.  The show is limited to 300 classic cars only.
Thank you
Online Registration and Pay by Check
BEFORE SUBMITTING:
Once you have completed and submitted the  registration form below, you will be emailed instructions for payment.  You cannot edit information once this is done – PLEASE check the form before submitting.
You can purchase challenge coins along with your car registration. 
PAYMENT INFORMATION WILL BE SENT ONCE AN ENTRY NUMBER HAS BEEN ASSIGNED.
Payment must be received to secure your spot.